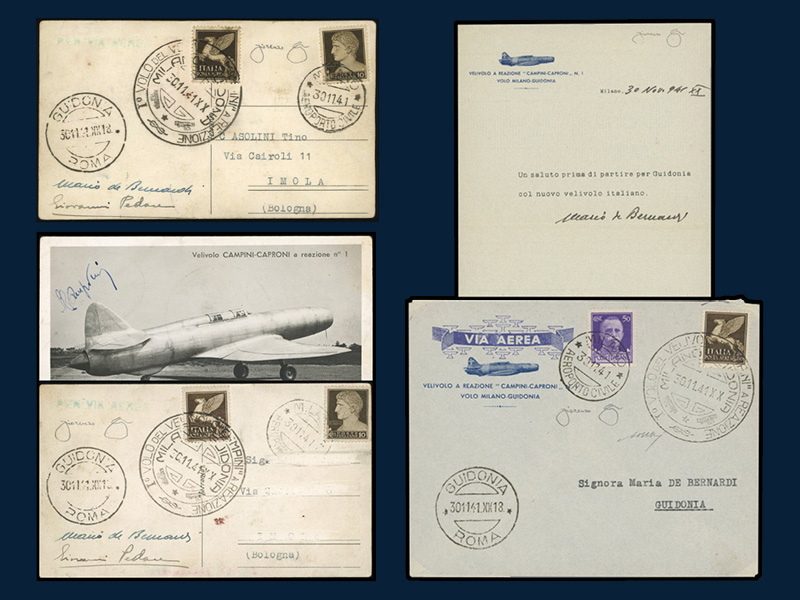 It was 1941, protagonists were engineer Secondo Campini, Officine Caproni and Colonel Mario de Bernardi, names certainly not unknown in the aviation environment.
And together they achieved a great Italian record thanks to the Campini-Caproni C.C.2 jet aircraft, an elliptical, low-wing monoplane built entirely of duralumin.
After testing in August 1940, the expert aviator Mario de Bernardi did not hold back and, accompanied as a passenger by Cap. Pil. Ing. Giovanni Pedace, on 30 November 1941 successfully completed the first postal jet flight, from Linate to Guidonia in 2 hours, 11 minutes and 24 seconds at an hourly average of 209 km, 451 over a distance of 475 kilometres.
It was the first jet-propelled airplane to make a long flight and, moreover, it was the first jet aircraft in the world to use an afterburner and carry air mail.
The postal testimonies of this great enterprise were authorized through a service letter sent before the flight by the Italian Ministry of Communications to the Postal Headquarters in Milan "a small quantity of correspondence, already prepared by them [de Bernardi and Pedace], on which, upon arrival in Guidonia, the post office postmark must be applied ..."
That "small quantity of correspondence", just talking about copies with autographs, consisted of photographic postcards of the aircraft at Taliedo field with the printed indication "Velivolo Campini-Caproni a reazione n° 1": the postcards with two signatures of Mario de Bernardi and Giovanni Pedace, or even rarer with three signatures, only 4 known copies (with also the signature on the back of Secondo Campini) in addition to the only known very rare postcard with all four signatures (M. de Bernardi, G. Pedace, S. Campini and Gianni Caproni).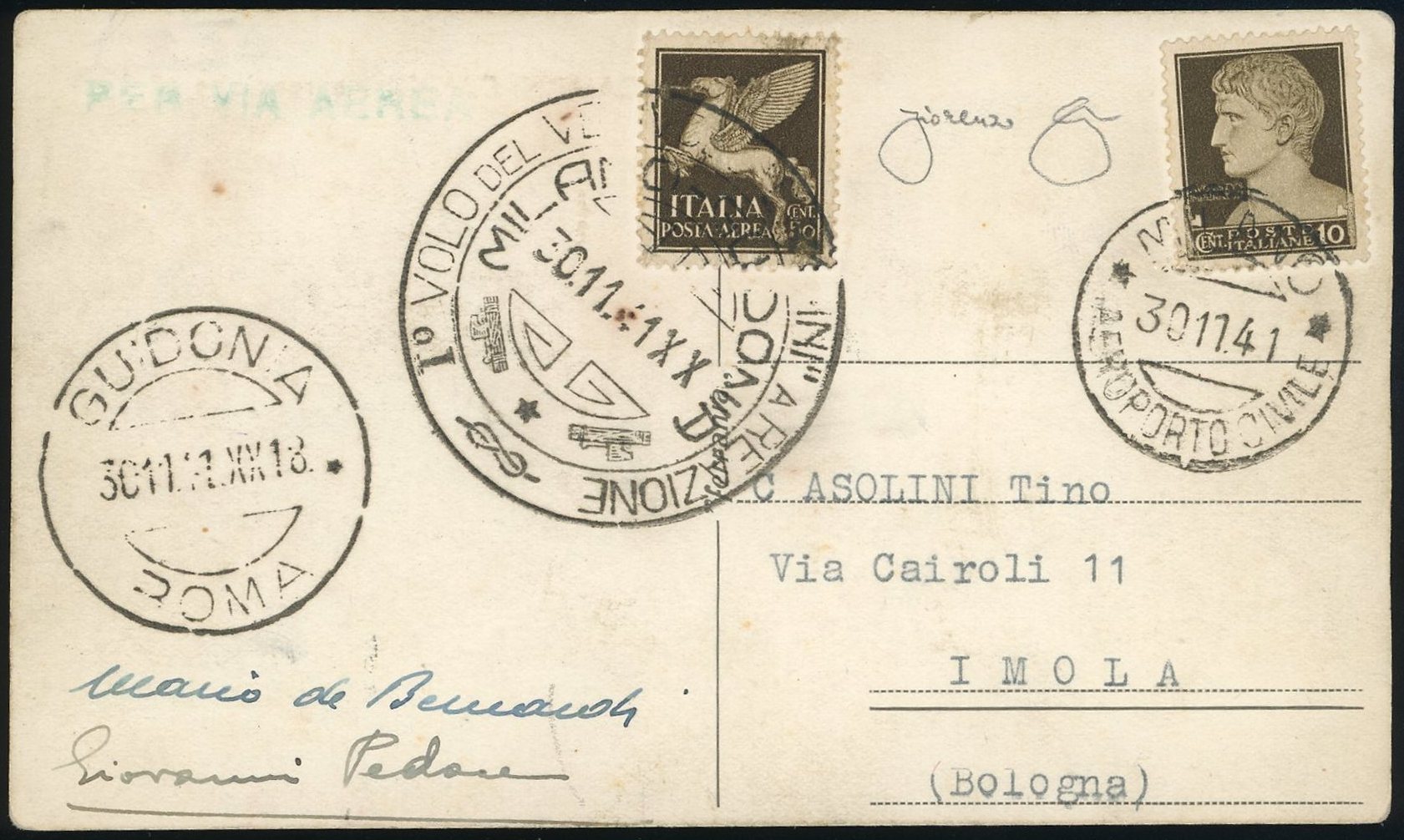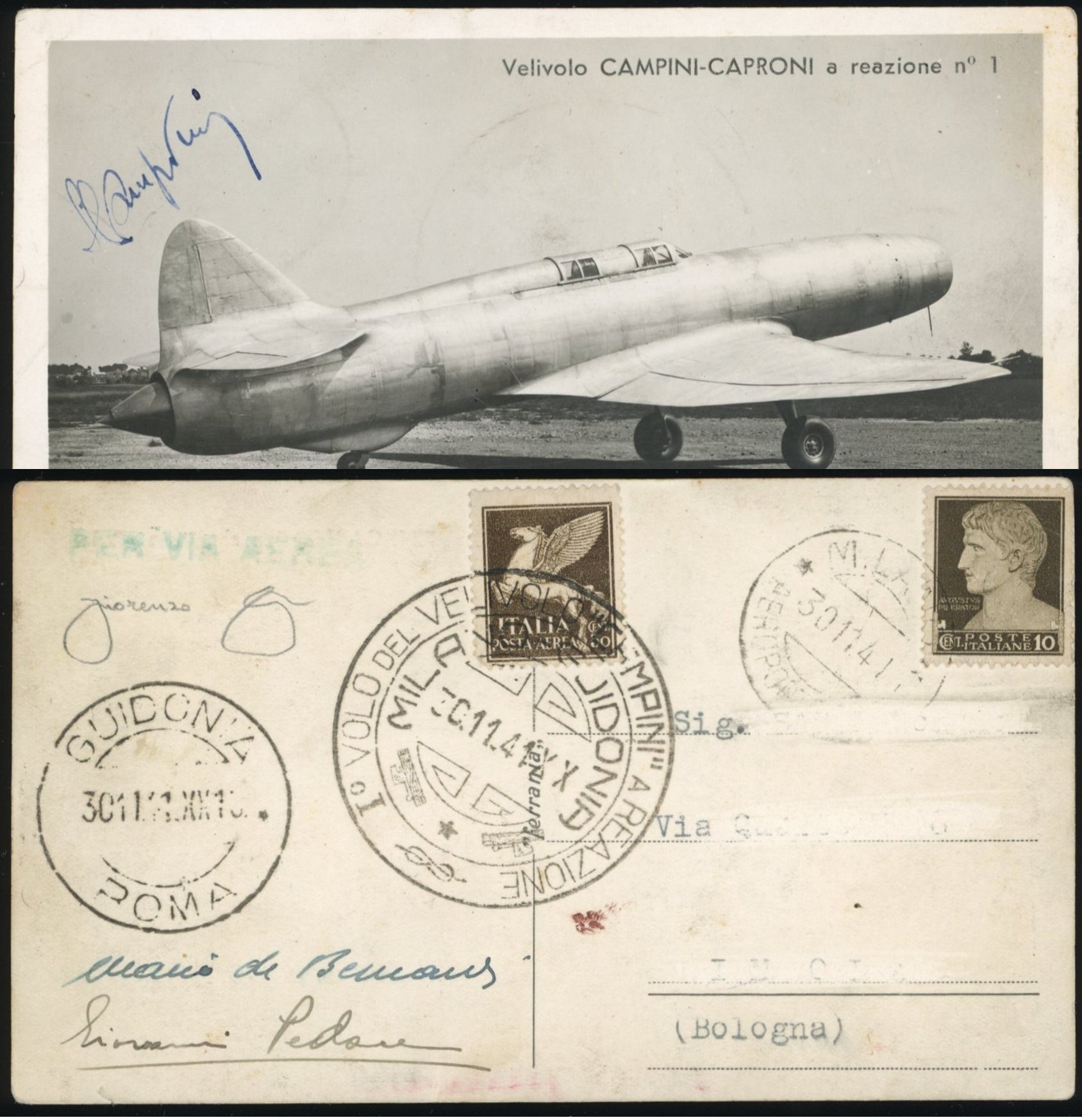 Together with postcards, in the post loaded there are also special envelopes (in 2 types different in the drawing) with the wording "via aerea" and the inscription on 3 lines "Velivolo a reazione Campini-Caproni N.1 Volo Milano-Guidonia".
For both postal correspondence, in addition to the departure and arrival cancellations in Milan and Guidonia-Rome of 30.11.1941, on the c.50 "Winged Pegasus" airmail postage stamp, which paid the air surcharge, the special authorized cancellation "I° Volo del velivolo Campini a reazione - Milano - Guidonia - 30.11.41 XX".
Some of the envelopes contain a rare sheet of writing paper with, top left, the blue printed profile of the jet plane and the two-line writing "Velivolo a reazione Campini-Caproni N.1 Volo Milano-Guidonia".
Top right, "Milano" printed, and the date "30 Nov. 941 XX" handwritten.
In the middle, printed, "Un saluto prima di partire per Guidonia col nuovo velivolo italiano" (Greetings before leaving for Guidonia with the new Italian aircraft) and the signature of Mario de Bernardi, which makes these specimens truly rare compared to the envelope alone.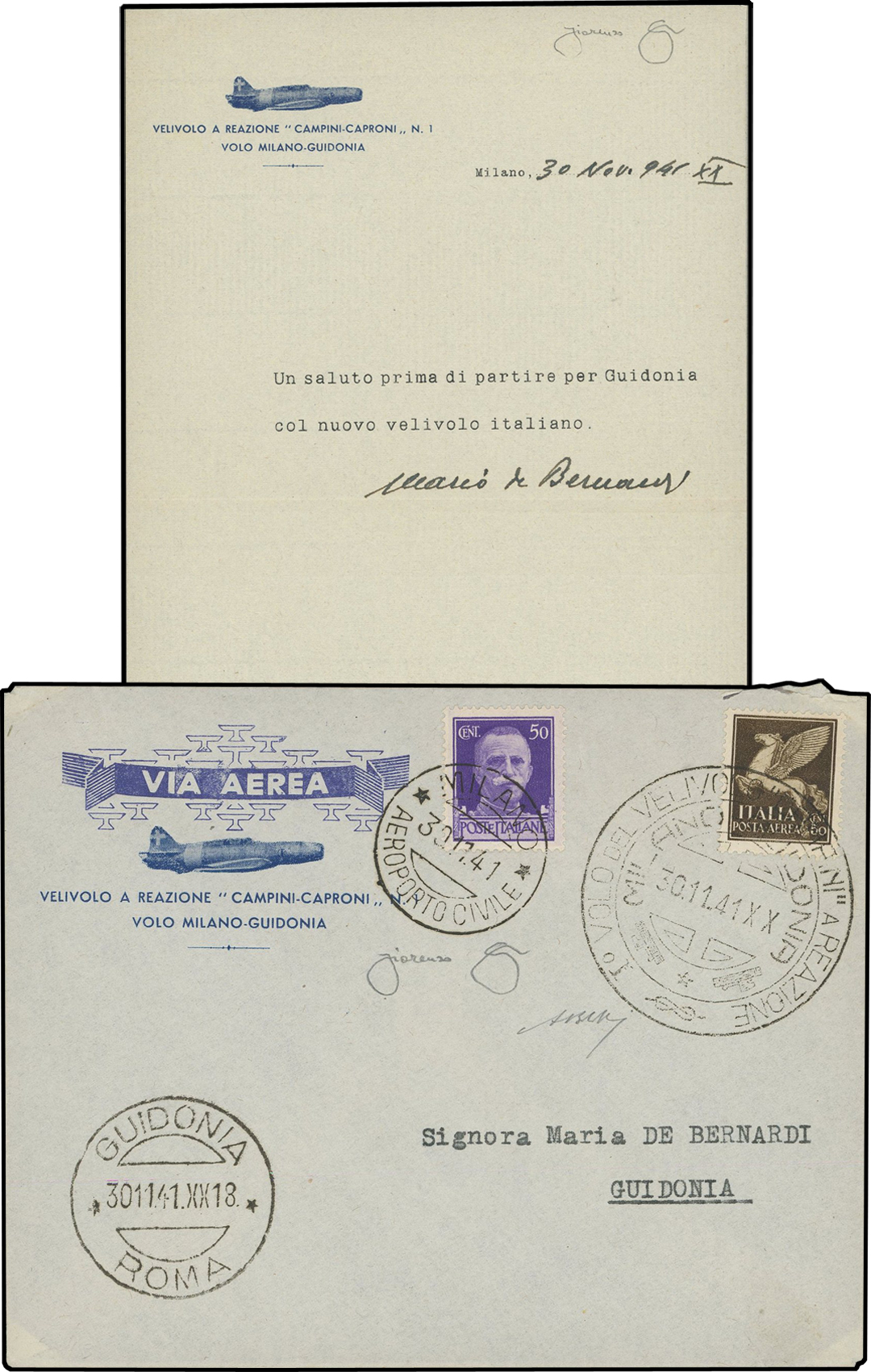 An Italian aviation primacy and postal correspondence as a perpetual testimony of this great enterprise in the 80th year of its anniversary.