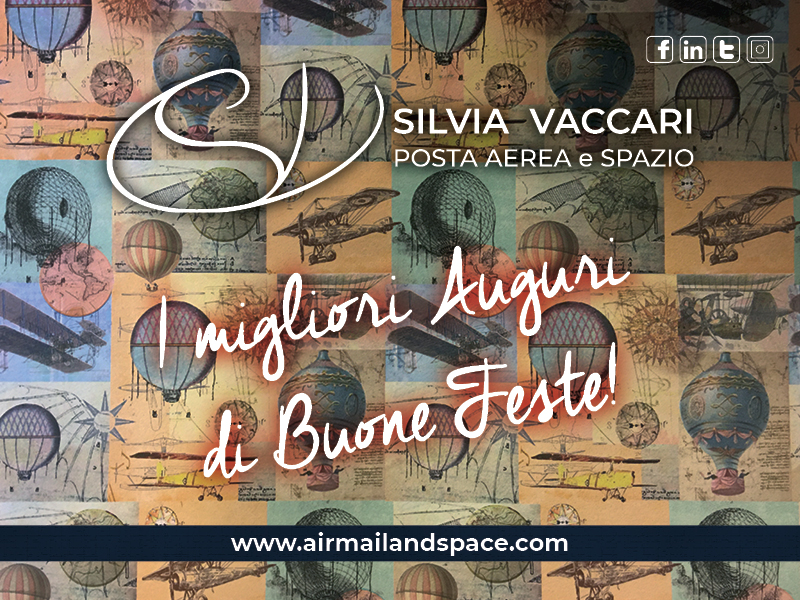 Silvia Vaccari Airmailand Space in giving you the best wishes for a Merry Christmas and a Happy New Year informs you that offices will be closed from 24 December 2020 to 10 January 2021 included.
During the closing time the website www.airmailandspace.com and social network await you with numerous proposal relevant to philately and books: Ballon Montés, Airmail, Zeppelin, Rocket and Space, documents, postcards and photographs of aviation, Star Wars postage stamps, books, catalogues and the "Fernando Corsari" used book library.
Orders can be placed regularly and will be processed upon reopening, in order of receipt. I have reached the end of the 3rd year of activity, since my over ten-year passion for flying became a profession and niche specialization with the establishment of Silvia Vaccari Airmail and Space and with the creation of the airmailandspace.com website, in May of this year. The saleis flanked by stories, news, appointments, anniversaries, to tell the exciting story of flight and the exploits of the men who made it.
I would like to thank all the customers, collectors, readers and colleagues who follow me and who offer me the opportunity to improve and always pursue my passion for flying.
Best Wishes and Happy Holidays!
Silvia Vaccari