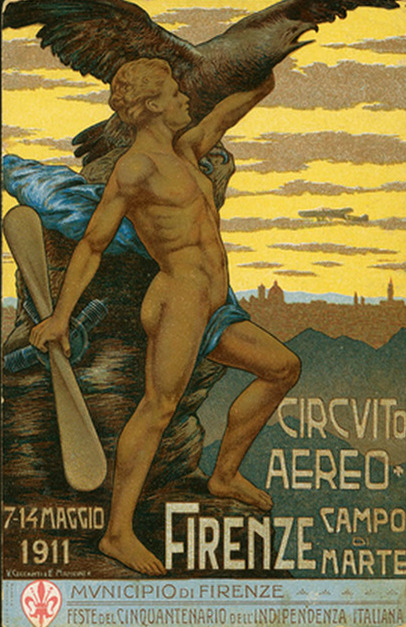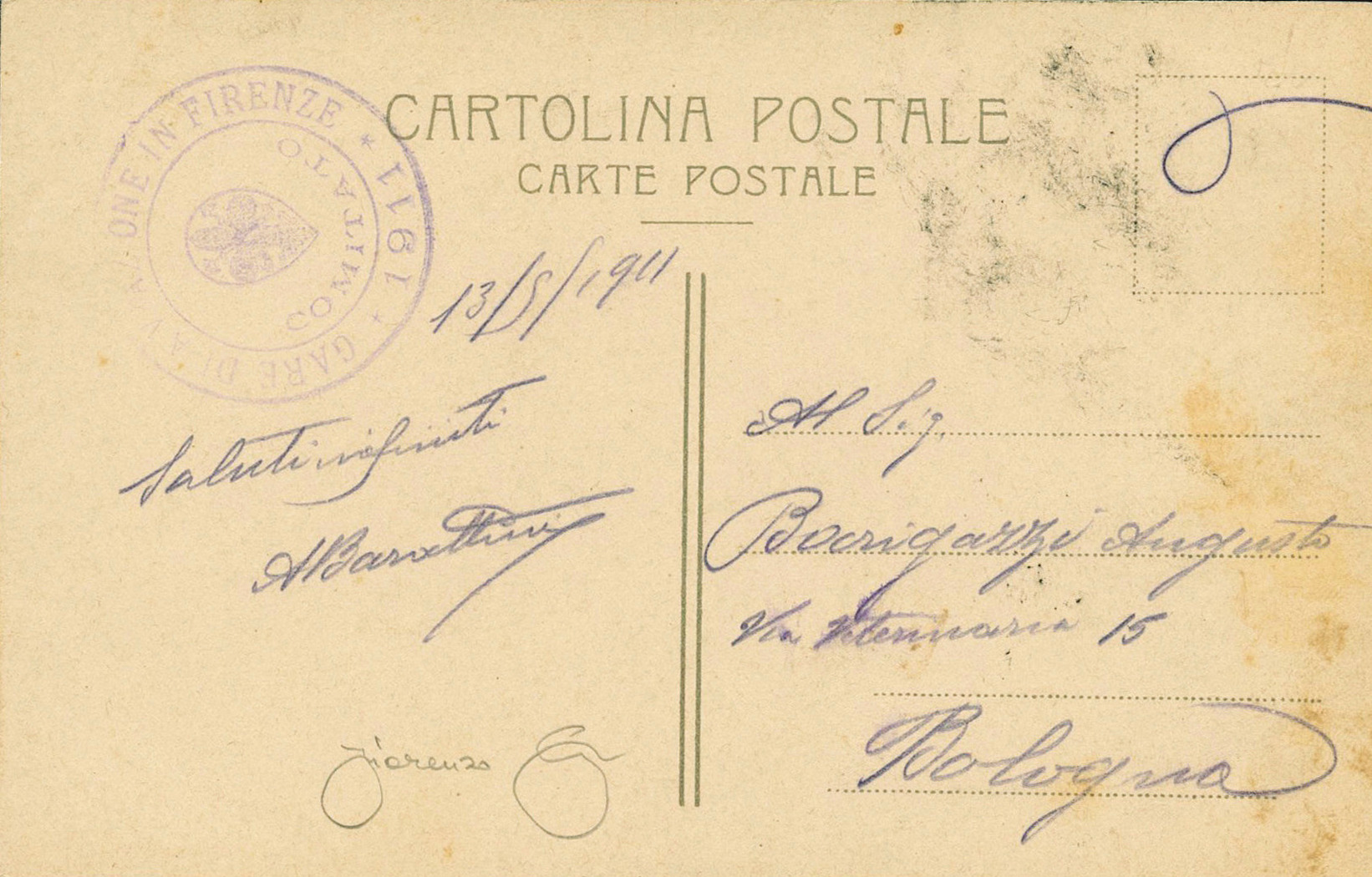 The Campo of Marte in Florence was the first airfield in the region, built in 1910, first for military use and then to carry out experiments in Florentine air navigation, gradually increasing the activities, hosting more and more aircraft and aviators ready to carry out for new primates.
The aviation races at Campo of Marte from 7 to 14 May 2011 were held to celebrate the 50th anniversary of the Unification of Italy and twelve pilots took part: the French: Eugenio Renaux, Giulio Vedrine, Maurizio Tabuteau, Andrea Frey and the Italians Umberto Cagno, Mario Cobianchi, Ciro Cirri, Romolo Manissero, Germano Ruggerone and only two aviators at this Italian event: the Belgian Elena Dutrieu and the French Giovanna Herveux.
Nico Piccoli with his airship Ausonia bis also took part in the event.
Romolo Manissero broke the Italian height record reaching 2,190 meters and Elena Dutrieu won the "King's Cup Grand Prix" in the five-kilometer speed race in 3.47 minutes.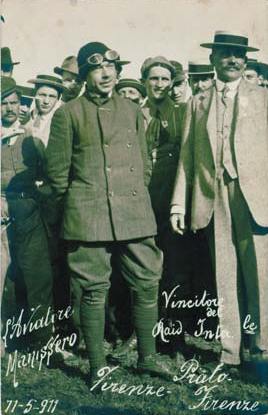 A post office worked in the field which canceled the correspondence with the special cancellation "CAMPO D'AVIAZIONE - FIRENZE" and date in the center on three lines and forwarded it by ordinary way. The special cancellation was also used in the two days preceding and the day following the official date. There are about 15 postcards known to date with the special cancellation.
There were two official postcards illustrated in color, the best known by V. Ceccanti and E.Mancini - Saida Armanino, Genoa and "Oggi si vola" by L. Martinati - Stab. Lit. Senefelder, Florence, in addition to about fifty printed and photographic postcards of the Aviatoria Race, the vertical cartoons with the same subject as the official postcard but of various colors and then rarer are the Program, the Menu and the Single Issue published for the event.
The special cancellation was rarely accompanied by a 34 mm red or violet double-circle stamp "GARE DI AVIAZIONE IN FIRENZE * 1911 *" in the center of the lily of Florence and "COMITATO", very rare.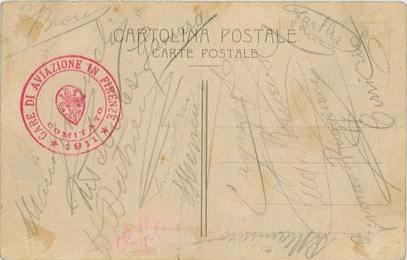 The Campo di Marte airfield remained active throughout the 1920s, until air traffic became so important that the construction of a new airport was necessary. The last demonstration at Campo di Marte took place on May 18, 1930.
References: Fiorenzo Longhi "Italian Aerofilia 1898-1941" (next reissue)