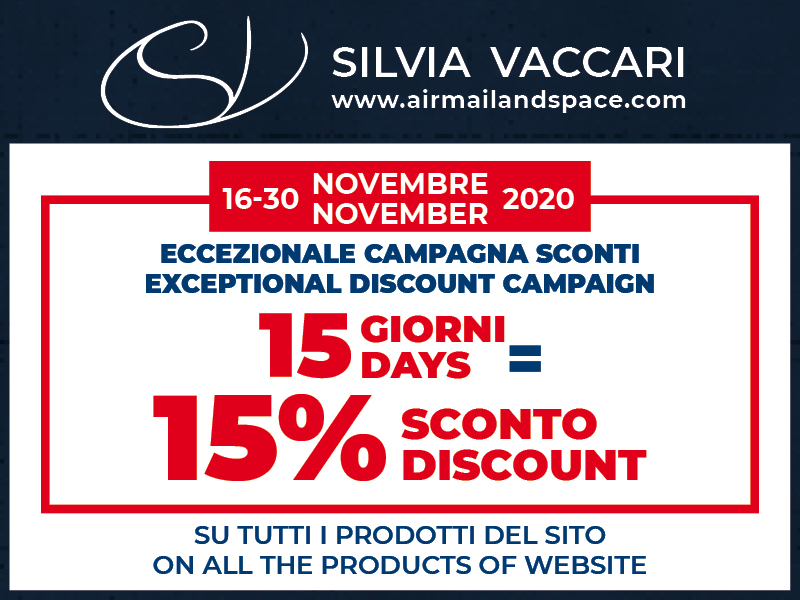 The portal dedicated to Airmail and Space by Silvia Vaccari offers its customers a 15% discount on all the products on the site: from items at cheaper prices to rarities, with savings of even hundreds of euros!
Dear reader, how not to take advantage of it? But only for 15 days, from November 16 to 30, 2020, and you can use it as many times as you want!
Nothing else changes, costs and methods of transport, methods of payment, fast shipping and insurance included.
More than 1,000 products are waiting for you, from philately to books: from the origins with Ballon Montés, the first airmail, the first flights, the great pilots, De Bernardi, De Pinedo, Nobile, Lombardi, Balbo. With Zeppelin mail you can fly aboard airships, and the Graf Zeppelin LZ-127 is the undisputed protagonist.
Aviation is also historical documents, posters, flyers, postcards and photographs.
And for fans of the legendary George Lucas saga, the showcase of "Star Wars" postage stamps and miniature sheets.

And then, by raising your eyes more and more to the sky, you will travel with Rocket mail reaching orbit with space mail, USSR-RUSSIA, USA, ISS and its 20th anniversary on 2 November, "Miscellaneous", hundreds of commemorative envelopes also with autographs of space deeds protagonists.
And then how not to take advantage of the 15% discount to enrich your library while saving?
Drawing on the immense book patrimony, almost all in single copies, from the library of "Fernando Corsari", especially for the more expensive texts where the savings are greater: old books and valuable works, collections of magazines and the 3 large boxes with the personal aviation archives "FERNANDO CORSARI", an inexhaustible source of information, the result of the author's great passion and spirit of research in the aviation field.
So let's start saving money, without losing one single day!
And see you on airmailandspace.com!